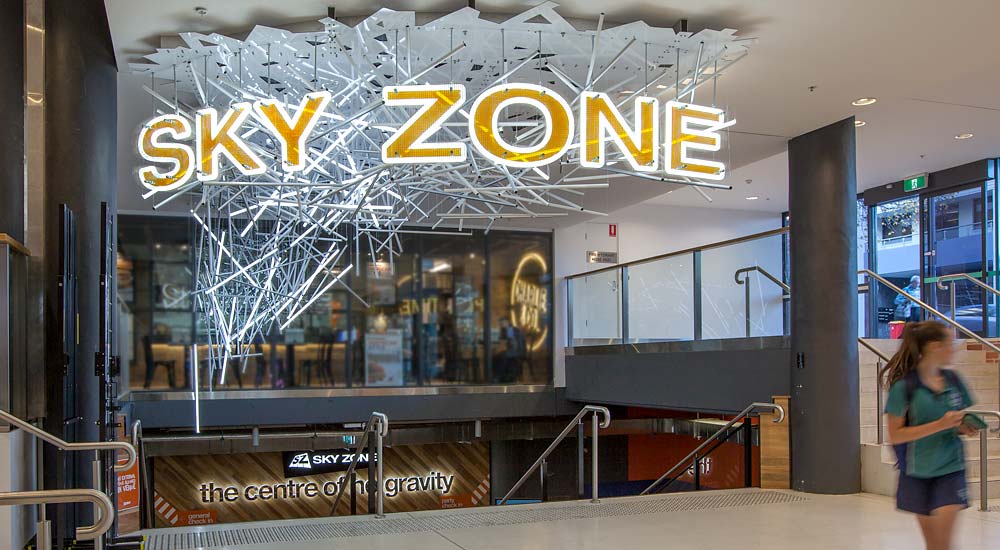 Sky Zone, at Westfield Miranda, is the next step in the evolution of this fast growing sports/entertainment destination.
One of our most expansive projects in recent times, this 3,700 square metre space is truly unique for a shopping centre tenancy. The space was a former cinema complex that was hollowed out to create a cavernous underground concrete bunker three floors below street level. Working alongside our progressive client Fun-Lab, and multi-talented construction firm Lexon, the project allowed all of us to push the boundaries of the brand to levels it had not previously reached before.
Photography by Christine Wood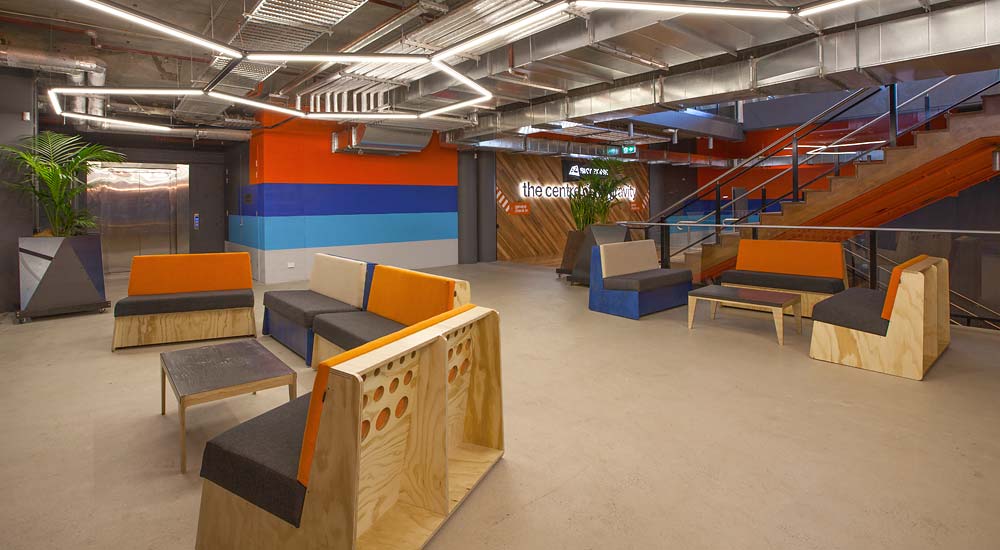 We usually design a few special furniture items for our entertainment projects, but in this case all public area furniture was custom designed to suit the new expression of brand. All pieces made by Cormio Commercial Furniture.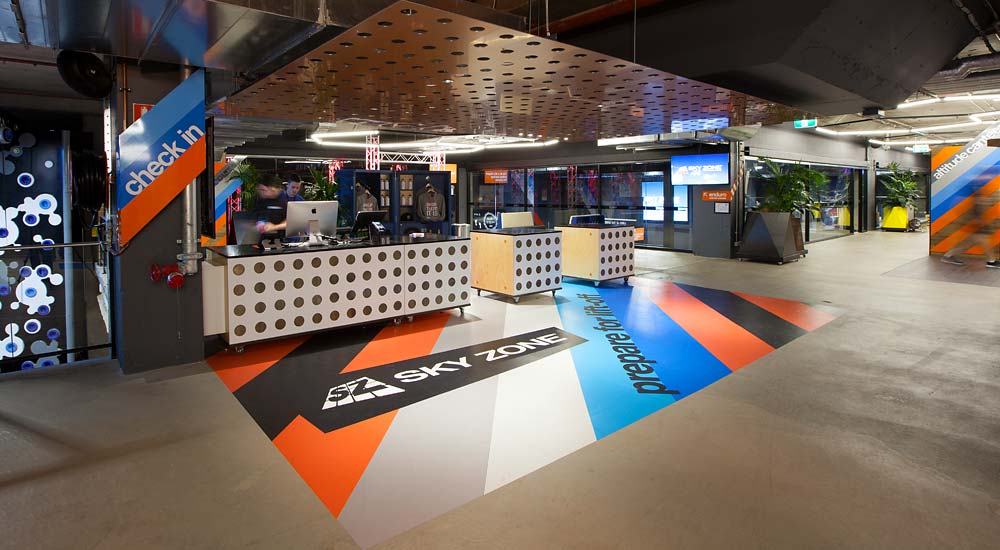 The reception counter is made up of mobile pods that connect via magnets to form one long counter. The pods can also be pulled apart to create independent service pods for use in the entrance and party areas.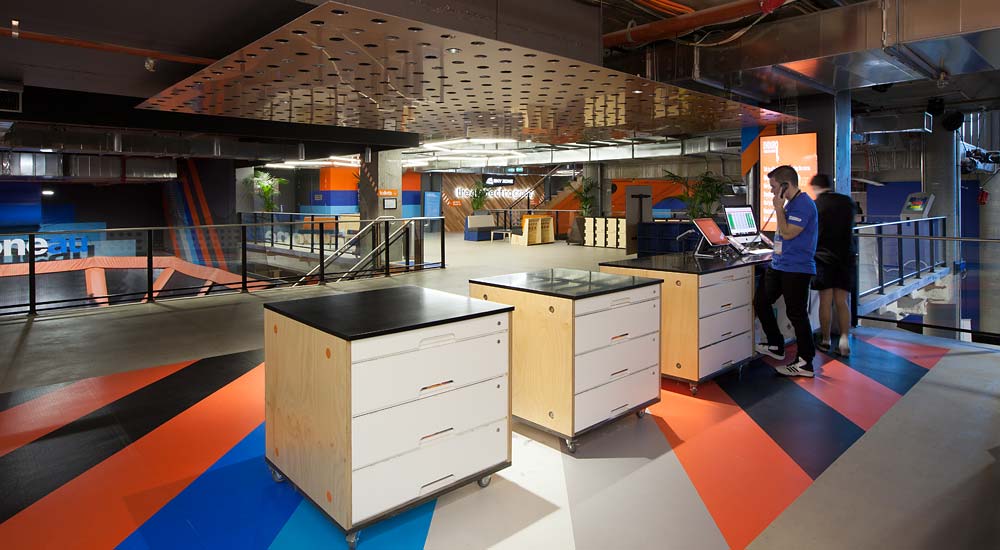 Each service pod is stocked with wrist bands and jumping socks. The easy mobiltiy of the pods allows staff to quickly and efficiently direct customer flow and serve customers from any location in the tenancy.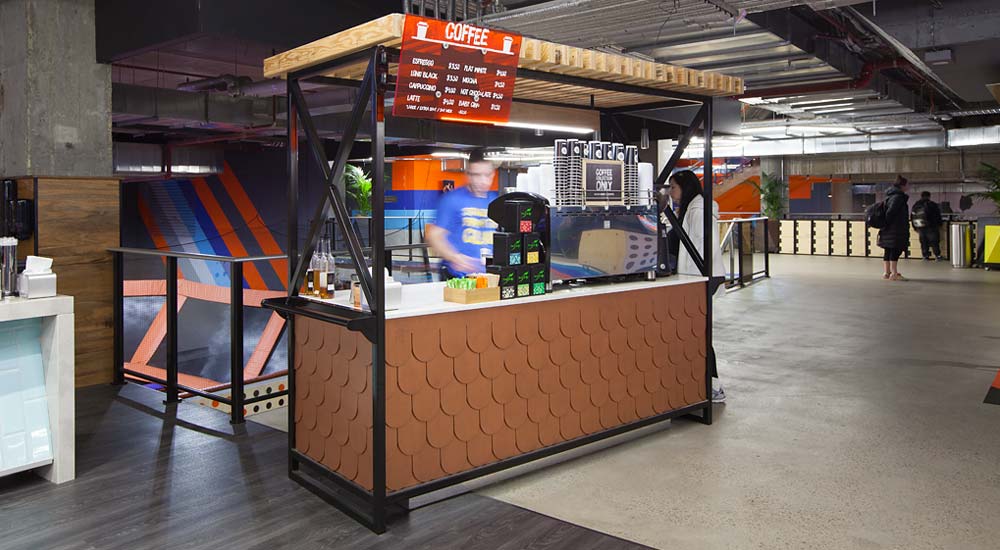 Another piece of specialty joinery that tilts the space in a new direction is the copper shingle coffee cart, a super fabrication by the team at OnSet Arts.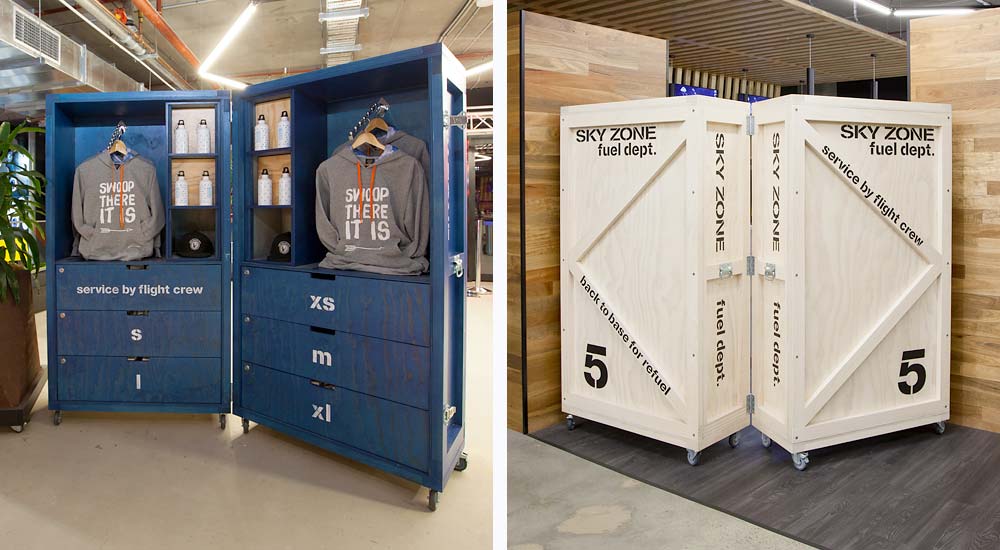 Bold stencil lettering was applied to the merchandising crates to give them a military cargo feel.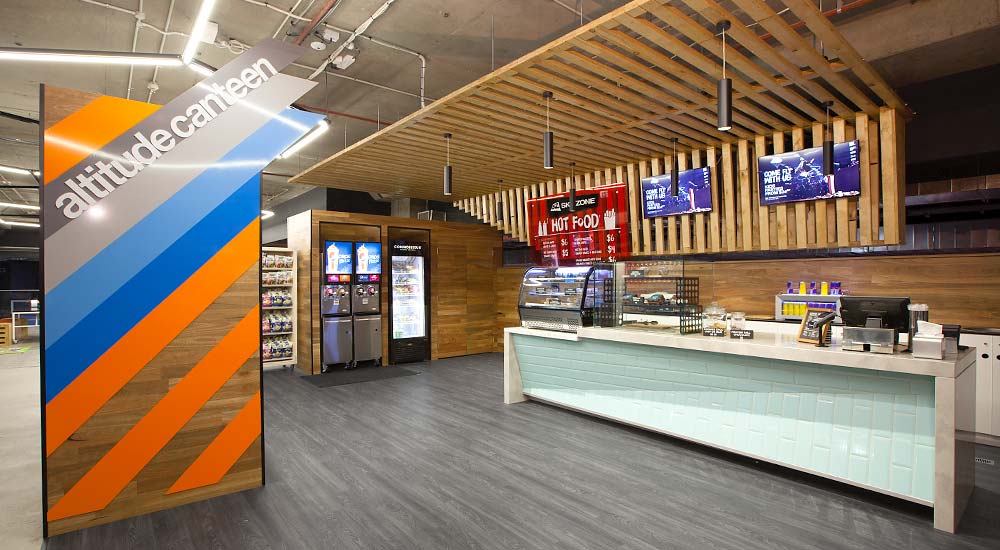 The canteen space is kept to a raw honest tone via the use of natural timbers and concrete.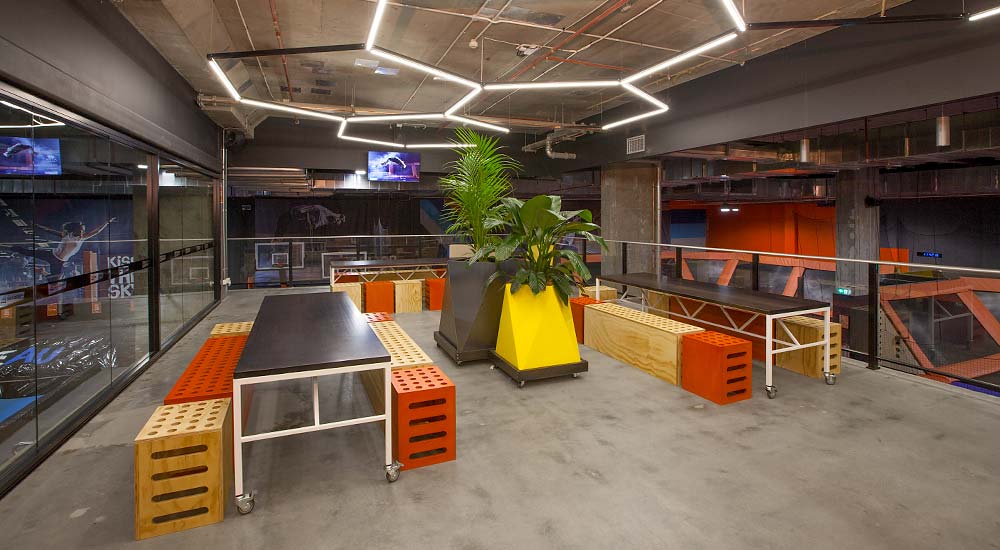 Customers can escape the high energy below and relax in low-key dining spaces on the upper level.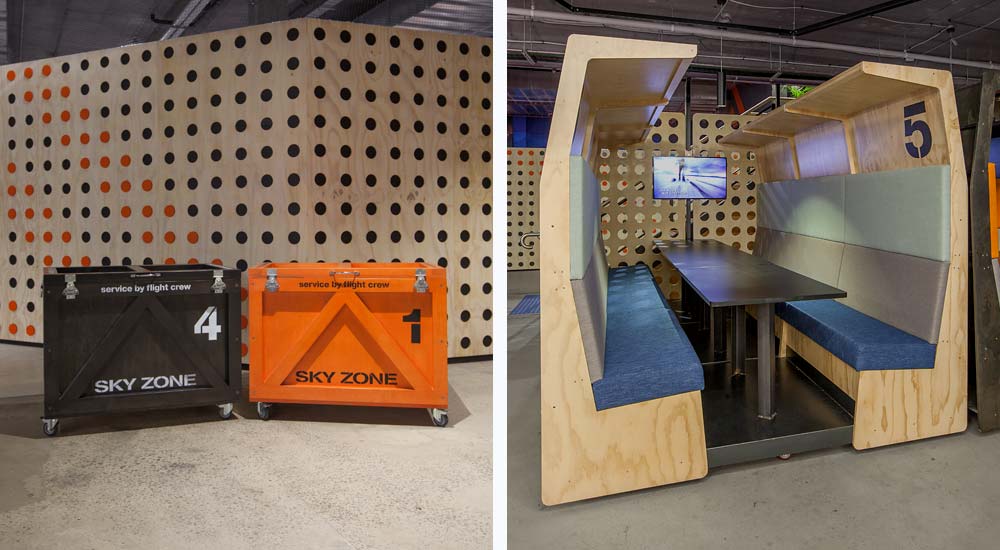 Packing crates and private booth seating create a cohesive party package for all ages.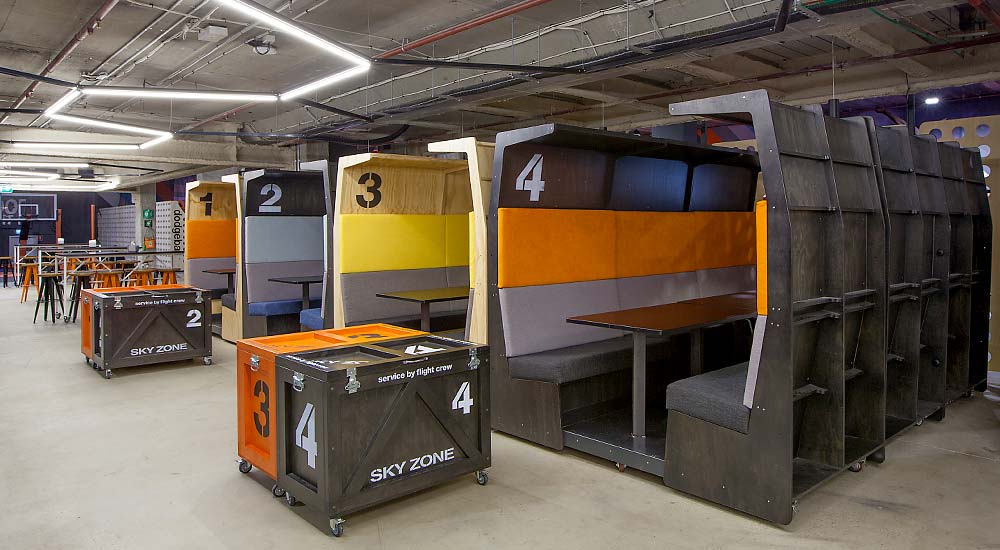 The booth seating area features our newly created 'Space Pirate' modular booth system, which can be quickly separated and redistributed around the space to form endless combinations and clusters of independent booths for more intimate interactions.


Our 'Park Tube' bench seating is used to separate party guests into designated groups prior to moving on to the high energy activity areas.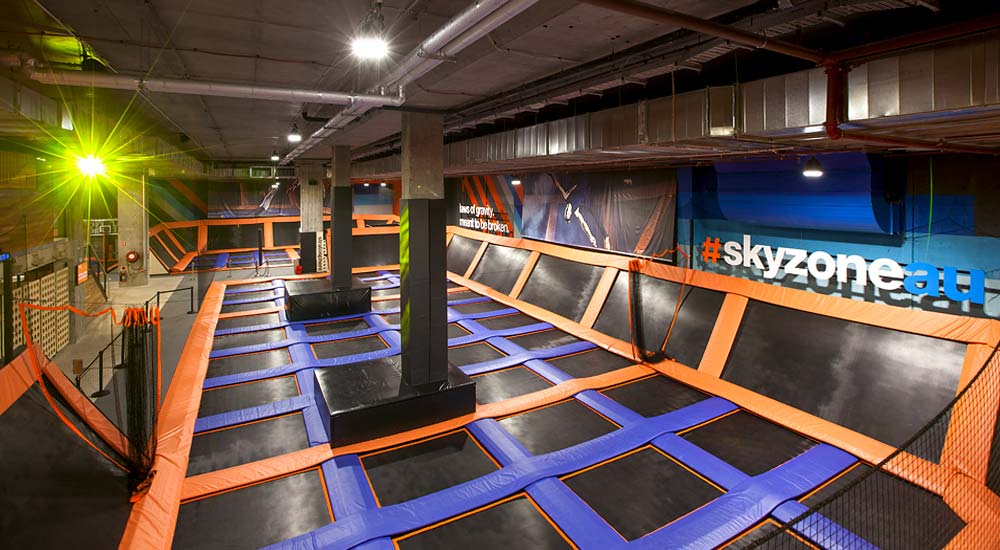 It's impossible to capture the space in one shot - the main trampoline area known as 'The Stratosphere', fills one third of the lower ground area.